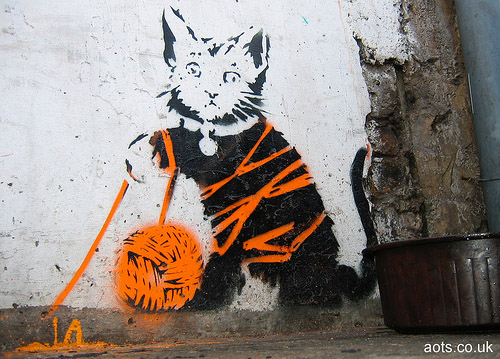 Aah, time off University...so nice and relaxing...I went to Knit Night on Friday and met some knitters I hadn't met before, always pleasant. I worked on swatches and untangling yarn, some things I'd been meaning to get done for a while. The first swatch was for the
Tea Rose halter top
from last summer's Interweave Knits. I chose a mustard-coloured cotton Young Touch by Estelle for it. This yarn was tangled because for this pattern, you hold four strands together. The second was my swatch for the Big Sack sweater from Stitch n' Bitch, in Patons Chunky Tweed, brown with green and orange flecks.
As for my
Blissful Jacket,
I continued seaming it yesterday. I think it's almost done!
Photo courtesy of Banksy in the UK--check out the website for some cool graffiti art!